The Mahabharata is one of the two highest revered epics from Ancient India that forms the lifelines of billions of India who see it as source of spiritual fulfillment.
Mahabharat chronicles the unimaginable powers of Lord Krishna and his love towards the beloved. The Great Battle did take place in Kurukshetra but to trace Krishna's life one has to visit the temple town of Vrindavan in Uttar Pradesh. Every person who lives here or even visits for pilgrimage has only Krishna's name on their lips.
Vrindavan is associated with Krishna's childhood (bal-Leela), played out under the loving care of his parents Nanda and Yashodhara.
Many temples dot these two places, and are a favourite destination for many Krishna devotees. Vrindavan is also the centre of the Ras-Leela (games of love), associated with Krishna, Radha, and the gopis; and every year this event is celebrated with a great deal of devotion and pomp.
The town is a maze of narrow streets and regal, sandstone temples. All-day long, thousands of pilgrims gather to pray at the base of giant statues of deities.
But, this town is also infamous now because it has been flocked by women who have been banished by tradition and abandoned by their families. They are called widows of Vrindavan.
Hindu brides are often expected to live with their husbands. This weakens ties with their own, and widowhood can spell disaster. Without a husband, a small portion of India's approximately 40 million widows are violently purged from their homes each year.
But, overall their situation has improved after a flurry of public litigations and a sequence of legal rulings yet the impact is still felt in Vrindavan. A place that became famous for Krishna's love of village Gopis (Girls) in his earthly days.
Why did the practice to go to Vrindavan start?
It is believed that the last Earthly avatar of Krishna – Mahaprabhu Caitanya brought a group of women from Bengal here in order to escape the practice of now banned Sati. (Hindu widows immolated themselves on their husbands' funeral pyres)
For many centuries, these women who flocked to Vrindavan later survived by singing devotional songs in the temples and by begging on the streets often in white colour- indicating presence of no colour in their lives after husband's death. More so, they were banished to play the Indian festival of colours- Holi.
When they died, garbage collectors would sometimes stuff their bodies into jute bags and throw them into the Yamuna River.
According to an estimate, there are around 5,000-6,000 widows living in Vrindavan, Govardhan, and Radha Kund areas.
It was only in 2012 when the Supreme Court laid its eyes on the plight of these women. The court ordered that a special committee be constituted to identify the widows in Vrindavan — "those having shelter and those wandering in the streets without shelter".
Many of these women either have parts of their memories lost or don't clearly remember the circumstances of how they ended up in Vrindavan.
Many sing to the same tune that their families called them an unwanted burden, or disgrace the family for "killing their sons". It is observed that in such cases women have no role in the circumstance of husband's death. Men either fall prey to liquor, accidents, or health-related issues.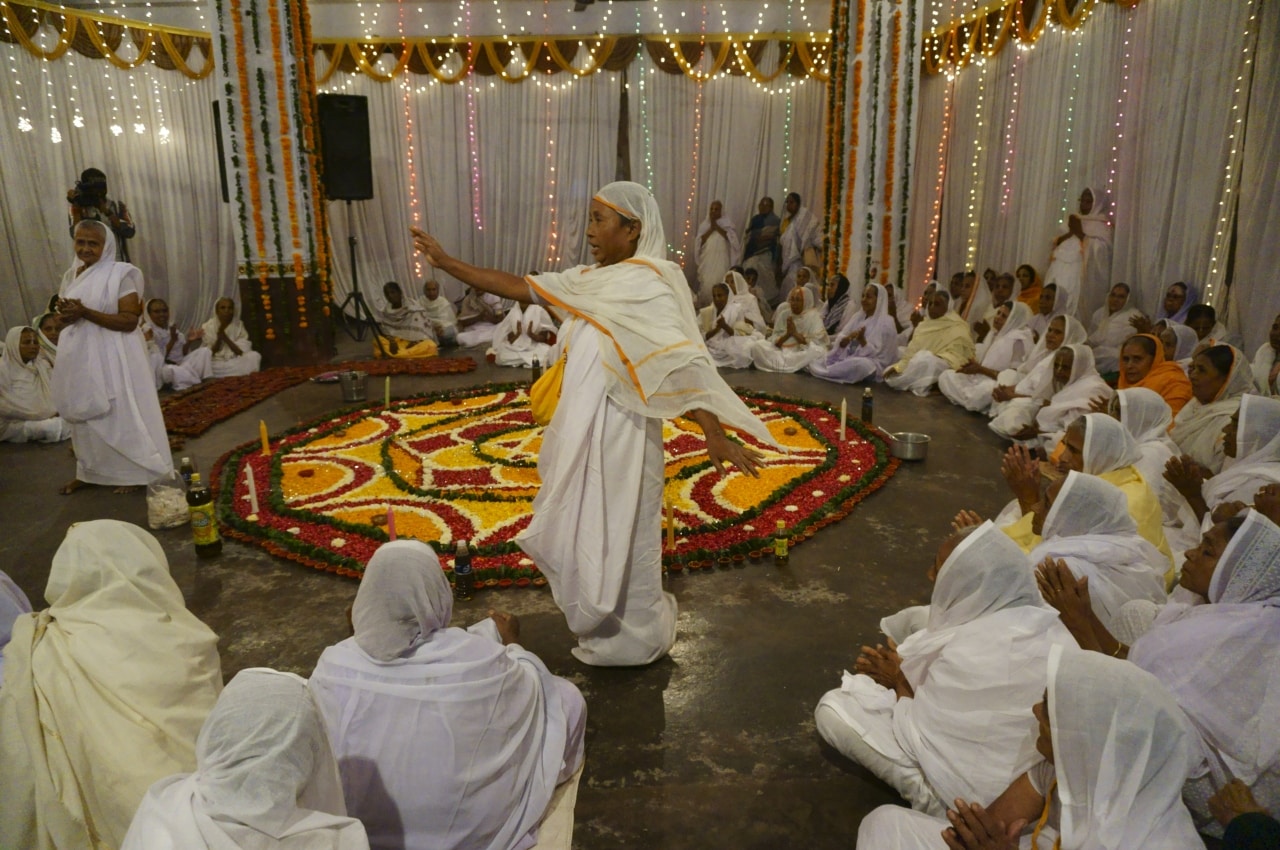 What does their day look like?
Their day starts at 4 a.m., after which they get ready to go to the temples.
Temple prayers wind up by 10 a.m. and the women return to the ashrams. After a few hours of rest, they start preparing lunch and later spend some personal time either watching TV or talking to each other. Prayers and sleep follow.
Most of these women are not allowed out of Ashrams post 10 AM, if they are found flouting the rules of Ashram then these women would be banished from the place. This leaves them with only the option of begging and sleeping on the streets of the Holy Town.
More so, several women had also made a trip in 2015 to tie Prime Minister Narendra Modi Rakhi (an auspicious thread tie festival between Hindu brothers and sisters).
Any change in their status?
Since the 2012 verdict, a number of government projects have been introduced, including building Krishna Kutir, or Krishna's House, which cost $8 million and opened last August. Many of the 129 widows living there arrived alone, by train, from villages hundreds of miles away, with dirty, torn clothing and some came with serious injuries.
At the ashram's inauguration, Maneka Gandhi, India's minister for women at the time, said there was still far to go in improving widows' treatment, but that she hoped Krishna Kutir's model could be replicated elsewhere in India. "We want all women to feel safe," she said.
How Covid-19 affect their lives?
It was a plain and simple attack on everyone, the pandemic. It did not differentiate. The Pujas which were their backbone stopped as the pandemic raged on. Plus living on the streets was out of the question due to the lockdown.
These women had to live in small ashrams or living places in closely packed rooms. Almost all of these widows fall in the senior citizens-most vulnerable to virus category.
They sang and ate together till the unlock phase started.
Moreover, they have little to no political inclinations. The widows also don't seem to care much about their political irrelevance as many of them believe that their situation would remain the same irrespective of who is in power.
Among the widows, less than 10 percent have voter identity cards. The widows also share a feeling of helplessness and abjectness about exercising their right to franchise. Many do not even remember whether they exercise their right to vote in Independent India.
In a Nutshell
Standing in a long queue for a meal in the scorching heat. Thrown out of their homes, these widows get to stay at a home in Vrindavan where they spend most of the time doing kirtan and begging. Many of them have been lured by their children and family into leaving their house to go to Vrindavan in the 'name of God'.
With no money, these women – most of whom are from the hinterland – end up at the mercy of landlords who force them to beg and earning money. In return for the money they earn from begging, the landlords provide them with a minimum amount for their living. About 6,000 widows are residing there, a majority of whom are from West Bengal.
The land of Lord Krishna, Vrindavan is considered a holy place for Hindus. But the conditions in which these women are forced to live shed light on how poorly they are treated by their families. No one knows why so many widows come here, but it has been so for centuries and no steps have been taken to stop this atrocity.