"All the world's a stage and all the men and women merely players. They have their exits and their entrances, And one man in his time plays many parts."
Act 2, Scene 7, As You Like It, William Shakespeare, 1623
The above quote has been used multiple times in literature, writing and has been translated into multiple languages. If one were to read it again, the quote still holds relevance, is still extensively used in literature, however, what one must focus on is the way 'Men' and 'Women' have been emphasised.
The emphasis of literature on humans, things that surround humans-nature, animals, buildings- the individualistic spirit of humans and detailed elaboration of a human's life came from the Humanist movement that first started in Italy in early 14th Century
What's Humanism?
Francesco Petrarch or commonly known as Petrarch is considered the 'Father of the Humanist movement' and one of the first humanists.
The Italian scholar and poet in Renaissance Italy, who rediscovered Cicero's letters is often credited for initiating the 14th-century Renaissance.
Petrarch's sonnets were admired and imitated throughout Europe during the Renaissance and became a model for lyrical poetry.
In the 16th century, Pietro Bembo created the model for the modern Italian language based on Petrarch's works.
Humanism, also known as Renaissance Humanism, was an intellectual movement embraced by scholars, writers, and civic leaders in 14th- and early-15th-century Italy.
The movement developed in response to the medieval scholastic conventions in education at the time, which emphasized practical, pre-professional, and scientific studies engaged in solely for job preparation, and typically by men alone.
Humanism at the beginning was only a literary movement but soon also spread to everyday living, table manners, and outfits.
However, something dating back to the 14th century needs a well archival for it to be accessed by the modern generation.
Humanism can be seen clearly in the following  plays, writing pieces, paintings and sculptures
"Hamlet" by William Shakespeare includes introspection, self awareness, and musings about mankind.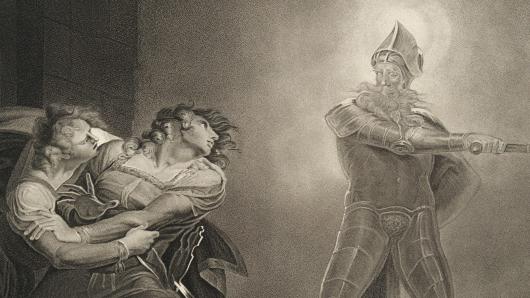 An essay titled "Oration on the Dignity of Man" by Giovanni Pico Della Mirandola supports the dignity of man, man's unlimited possibilities and freedom of choice
The scholarly writings of Petrarch (1304 –1374), who is often called the father of humanism. These include The Canzoniere, sonnets, and letters.
  Mark Twain's The Adventures of Huckleberry Finn shows humanism when Huck treats the slave, Jim, as a a human being, and recognizes his worth
Niccolo Machiavelli, who penned The Prince, addressed the idea that people should be responsible for their actions, they have a role in their own destiny and they should not blame God for everything.
How did Humanism reach Britain?
English humanism flourished in two stages: the first a basically academic movement that had its roots in the 15th century and culminated in the work of Sir Thomas More, Sir Thomas Elyot, and Roger Ascham and the second a poetic revolution led by Sir Philip Sidney and William Shakespeare.
However, English humanism as a distinct feature was not seen until the end of the 15th century.
In Sir Thomas More, Sir Thomas Elyot, and Roger Ascham, English humanism bore fruit in major literary achievement. Educated at Oxford (where he read Greek with Linacre), More was also influenced by Erasmus, who wrote Praise of Folly at More's house and named the book punningly after his English friend.
More is credited for writing 'Utopia'. Utopia was a book on how an ideal world will look like. A world with women's rights and that too equal, how people who don't subscribe to any religion, gender or race will be classified as humans.
More's Utopians eschew the rigorous cultivation of virtue and enjoy moderate pleasures, believing that "Nature herself prescribes a life of joy (that is, pleasure)" and seeing no contradiction between earthly enjoyment and religious piety.
Significantly indebted to both Classical thought and European humanism, Utopia is also humanistic in its implied thesis that politics begins and ends with humanity; i.e., politics is based exclusively on human nature and aimed exclusively at human happiness.
The poetry and drama of Shakespeare's time were a concourse of themes ancient and modern, Continental and English. Prominent among these motives was the characteristic topics of humanism.
Shakespeare early in his career produced strikingly effective writings- Venus and Adonis (composed 1592–93) and The Comedy of Errors (c. 1589–94), respectively—and drew on Ovid and Livy for his poem The Rape of Lucrece (1594).
In Julius Caesar (1599–1600), Antony and Cleopatra (1606–07), and Coriolanus (c. 1608), he developed Plutarchan biography into the drama that, though Elizabethan in structure, is Classical in tone.
Shakespeare clearly did not accept all the precepts of English humanism at face value.
Shakespeare's plays reflect an inquiry into human character entirely in accord with the humanistic emphasis on the dignity of the emotions, and indeed it may be said that his unprecedented use of language as a means of psychological revelation gave striking support to the humanistic contention that language was the heart of culture and the index of the soul.
Not only was literature at the center of change, all arts, buildings, monuments went through a change.
The impact of the Renaissance and humanism varied across the continent; countries that were predominantly Catholic or predominantly Protestant experienced the Renaissance differently.
Areas where the Orthodox Church was culturally dominant, as well as those areas of Europe under Islamic rule was more or less outside its influence.
The period focused on self-actualization and one's ability to accept what is going on in one's life. Regards,